The SHOP: Crafters and Goods
The Brooklyn Women's Exchange is filled with unusual items, each one carefully selected to match our commitment to superior quality, design and materials. Most of our pieces are one-of-a-kind.
Our handcrafted selections include jewelry and personal accessories, table linens and home décor, stationery and holiday items for every season. Our collection of items for baby and child includes handmade christening gowns, hand-knit sweaters, smocked dresses, blankets and quilts, toys and books. We also carry a limited selection of brands we love like Antonia's Flowers, Jonathan's Spoons, Knudsen's Caramels, Laughing Elephant, LOQI, Milkbarn, Rockflowerpaper, and Winter Water Factory.
Many of the Brooklyn Women's Exchange crafters will custom-make their items to your specifications, so please contact us if you see something you like.
The Brooklyn Women's Exchange is proud to sell the work of more than 250 American craftspeople, some of which is showcased here.
Marissa Alperin | Brooklyn, New York
Jewelry designer Marissa Alperin, whose beautiful necklaces and earrings are a long time favorite of our customers, says, "from as far back as I can remember, I was always making things and working with my hands." After college and a few years working as a translator for National Geographic TV, Marissa enrolled in The Jewelry Design Program at the Fashion Institute of Technology (FIT), completed her associate degree in 2003 and set out to find a studio/shop to begin her jewelry business. Born in the Cobble Hill section of Brooklyn, New York, Marissa lives on the same block where she was raised, now with her husband and three children. We carry a variety of Marissa's delicate and colorful earrings and necklaces.
Lisa Samstag | Brooklyn, New York
Brooklyn crafter, Lisa Samstag, learned to knit from her Estonian grandmother at four year's old!
Today she complements her work as a psychologist and professor by knitting the amazing and adorable hedgehogs that quickly became a favorite of our customers. Lisa also knits beautiful baby and toddler jumpers in a variety of yarns.
Knitting brings Lisa great joy. She loves to make these handcrafted items and, happily, kindly shares them with all of us.
Bonnie Johnson
Handcrafts are often passed down from one generation to the next, as is the case with Bonnie Johnson, whose mother taught her to knit and crochet.
Bonnie uses sport weight yarn to make the soft and adorable owl sweaters that have become one of the Exchanges most popular baby gifts. She gets great pleasure from seeing how much interest and delight people continue to have in hand crafted items.
When she is not knitting, Bonnie works as a volunteer at her local Women's Exchange where she can often be found selling a baby sweater she made herself.
Dennis J. Taylor | New Canaan, Connecticut
All carvings are done by hand, using primarily a single carving knife and an occasional hand tool called a gouge. No sand paper or smoothing devices are used. All carvings are shaped with only the cutting edge of the tool used. Carvings are made from basswood (often called a linden tree), the wood most sought by carvers for its favorable qualities. Each piece of wood is unique, with its own set of characteristics and occasional flaws embedded within it, such as where the grain changes direction. These areas present a carving challenge and absorb paint differently. All of these conditions combine to make each carving unique and give it its natural character and distinctive handmade look. Dennis paints with highly diluted colors so the wood grain and hand carved texture show. Each carving is finished with two coats of a special blend of beeswax, carnauba wax, and walnut oil that is non-toxic and food safe, then hand buffed to give it a satin sheen.
Joanne Rueckerl | Brooklyn, New York
Brooklyn jewelry maker, Joanne Rueckerl, is self-taught and has been making her beautiful and popular jewelry since 1999. She has always been attracted to making things with her hands. Jewelry making was a natural extension of that attraction.
Joanne works with quartz, pearls and semi-precious beads. Her findings are silver. In her own words: "There is something very grounding about making necklaces, working with the stones and putting the pieces together."
Tony Okerson | Golconda, Illinois
A woodworker for over 20 years, Tony Okerson began carving his name trains for the Memphis Women's Exchange after retiring from his career in the U.S. Air Force. He inherited his tools and basic designs from his father, who carved the letters, engines and cabooses before him. The cedar he uses comes from locally harvested downed trees that he cuts and saws himself. Tony says his enjoyment of his craft comes from working with wood to create something he knows someone will be happy to get. Over the years Tony has enhanced his designs and added seven more Women's Exchanges where his trains are perennial favorites, just as they are for our Brooklyn customers.
Kay Biasotti | New York, New York
New York born and raised, Kay Biasotti has been designing and crafting quilts and dolls for the Brooklyn Women's Exchange for over 15 years. She learned to sew by hand as a child, and moved on to take a quilting course as an adult. Her excitement about using a variety of colors and designs in her quilts continues to motivate her work.
Kay also makes many dolls of different sizes and types including our Raggedy Ann and Andy as well as our child sized "dancing" dolls.
Kay's work has long been sought and treasured by family and friends alike. Happily for us, along the way she branched out into the Women's Exchange world and now provides her crafts to several exchanges.
Heidi Magenheimer | New Jersey
Personalized, one-of-a-kind decorative baby items, often made from recycled fabrics, are Heidi Magenheimer's specialty. Heidi began her self-taught crafting work more than forty years ago after her fifth child was born. The Brooklyn Women's Exchange is delighted to be one of five Exchanges offering her made-to-order personalized crib banners.
Maro Weidmann | Brooklyn, New York
Growing up in Greece, Maro watched the women in her family creating their own natural remedies and healing salves. Through the years she created her own personal recipes. Maro's line of products called LaRose use all organic natural raw ingredients and are offered in PBA free containers. In addition to the Brooklyn Women's Exchange, Maro now practices her holistic natural healing arts in Park Slope. We carry a variety of Maro's LaRose bath and beauty products, including bath salts and scrubs, body butter, face mask and lip balm.
Barbara Silverstein | Mansfield, PA
"I live in an open area where my 'models' sometimes literally show up at the back door. Besides squirrels and birds, we've been visited by skunks, bats, 'possums, raccoons, a rooster and a black bear." Inspired by the world around her, Barbara Silverstein creates wonderfully realistic stuffed animals that have delighted Exchange customers since she began crafting for us in 1992. Again in her own words, "I was delighted when once, at an outdoor show, a black Lab (retriever) grabbed a mallard from my table and ran off with it in his mouth… It was a highlight of my career."
Kathy Jeffers | Woodbourne, New York
Kathy Jeffers has worked as a potter and clay sculptor since 1970. Her ceramic pieces are made by pressing vintage hand made lace or doilies into the clay before shaping, glazing, and firing. This process preserves the original and delicate handwork. Her beautiful plates and bowls are food, dishwasher and microwave safe.
Kathy maintains a pottery studio in Woodbourne, New York, where she sells her pottery and teaches classes. Kathy is happy to custom make a ceramic piece using an old piece of lace that you would like to preserve and highlight.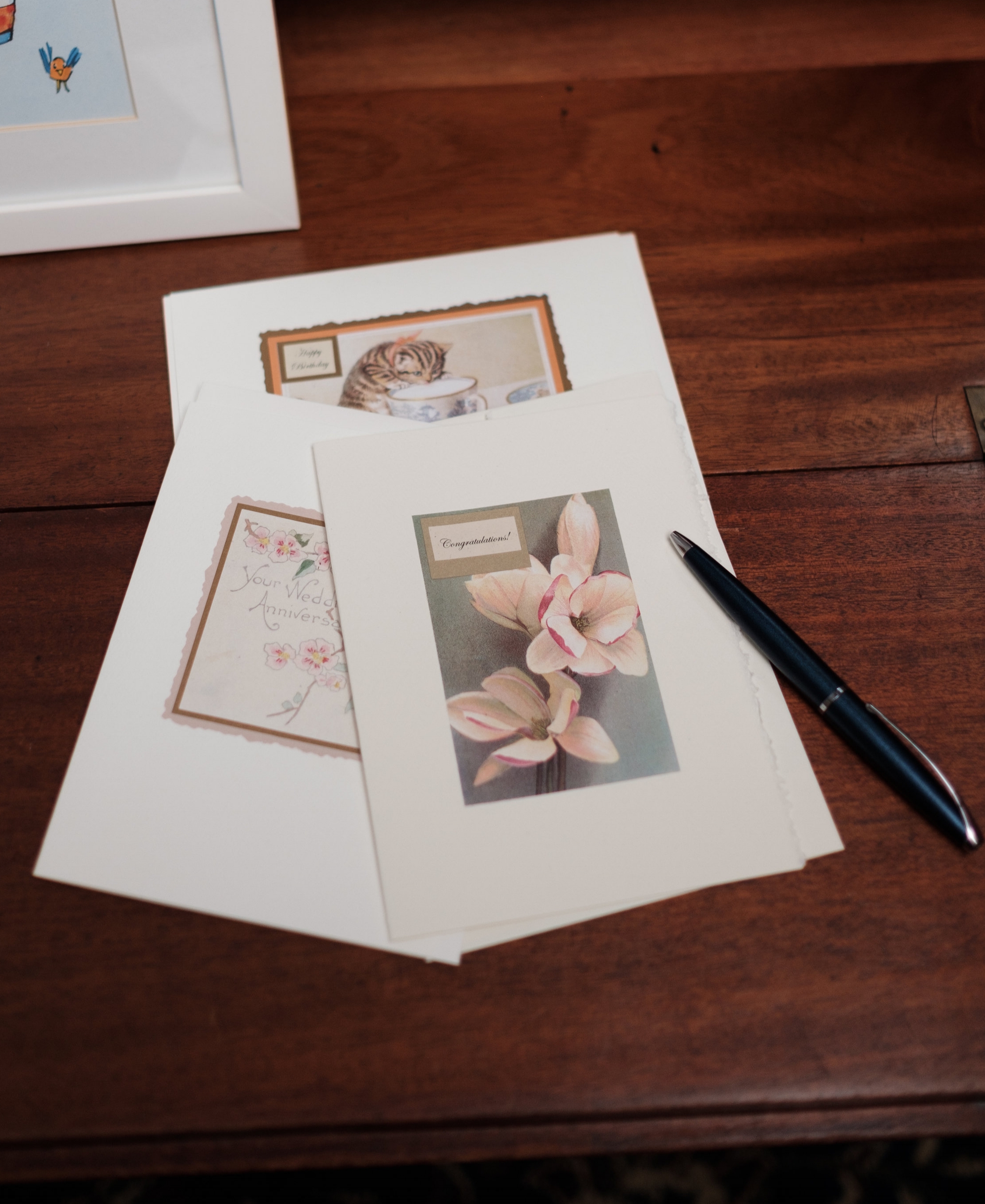 Dorothy Irwin | Brooklyn, New York
Brooklyn crafter, Dorothy Irwin, makes beautiful cards using imagery that is 100 years old - sometimes older that she finds at antique shows and flea markets. "The colors and design of these pieces have an incidental beauty, and it's thrilling to me to put them back into circulation." Thank you, Dorothy. It's thrilling to us as well.
Sabine Rosenstein | Brooklyn, New York
Brooklyn potter, Sabine Rosenstein, grew up in Germany, where use of handmade tableware is common and the homes of family and friends are full of individually crafted work. Her love of pottery is heavily influenced by these early memories. Many of her items showcase carved designs inspired by nature and the city alike. She enjoys finding new architectural details in her neighborhood for her Brownstones carved into the clay. Her glazes are hand mixed, lead free and safe for food. All pottery is dishwasher safe and microwaveable.
Lynn Lieberman | New York, New York
New York artist, Lynn Lieberman, believes there is no better way to get to know an area than to create a map of your very own. Lynn's watercolor maps of Brooklyn Heights grace postcards, note cards, posters, tea towels, aprons and totes. She enjoys including historic buildings, parks and restaurants and finds it particularly satisfying to have captured favorite places to preserve images of places that have since been replaced.
Margareta Horn | Memphis, Tennessee
From her first success as a crafter for The Women's Exchange in Memphis, Margareta Horn's garden-inspired Sweet Pea caps have been turning heads in country lanes and city streets. Margareta has been crafting for the Brooklyn Women's Exchange for over ten years and is willing to take special orders. Born in Sweden, Margareta began knitting when she was nine years old. She started her cottage industry in 1993, just a few years after she moved to Tennessee. From a kitchen in Silverthorn Cove, her business has grown to include over 500 styles and more than 10 knitters. Margareta is also involved in a humanitarian project named Livslust (tr. joy of life) which enables young people to get a better start in life.
Wynne Noble | Brooklyn, New York
Beginning at age 8 when she discovered ceramics at camp, Brooklyn resident Wynne Noble continued to take classes and teach herself about clay and glazing. She pursued her craft all through school, even majoring in Ceramic Art in college. Between exhibiting and teaching in her Gowanus studio, Wynne Noble's reputation continues to grow. In Wynne's own words, "My artwork addresses the dual characteristics of what is made by nature and what is made by human beings. Structure, form, color, as well as almost a lifetime of Brooklyn living are colored by a love of the countryside; all of these are the building blocks of these creations." Her simple and elegant stoneware reflect her love of her work.
Marcia Anderson | North Andover, Massachusetts
Beautiful, smocked cotton dresses are the handwork of Marcia Anderson, one of our treasured crafters for more than 15 years. Smocking is a type of decorative needlework used for holding gathers in place. One of the few peasant handcrafts of England, it is still carried on after hundreds of years. Marcia uses a manual "pleating machine" to evenly pleat and ready the fabric for the design. She feeds the fabric with one hand while cranking it with the other. The result is a unique, comfortable, heirloom-quality dress that will hold up to wearing and washing for years to come.
Jewelry by Anna Harper | Brooklyn,
New York
Anna loves creating jewelry that has simple elegance to it and reflects the natural world. Her shop is green and sociably responsible, from start to finish. All of her stones are responsibly resourced. Anna designs her pieces with the environment in mind, using recycled metals, and then recycles the scrap metal. She believes in slow production and creating a higher quality product. Her techniques are based on old world metalsmithing techniques instead of modern mass production. Anna's designs are heirloom quality, meant to last.
Maryna Yatsenko | Brooklyn, New York
From the moment Maryna picked up a pair of knitting needles, she was enchanted by the unlimited possibilities to transform yarn into a fashionable and unique cloth. Her gorgeous hats and scarves for children and adults have been in great demand at the Brooklyn Women's Exchange since she first walked through our door. She uses a wide variety of yarns from mohair and alpaca to cotton and acrylic in every color imaginable. Maryna's style is constantly evolving and her work shows it.
Ed Ratajczak | Pennsylvania
Ed started making silverware jewelry in 1988 as a hobby. The silverware he uses is double or triple-plated, making it both sturdy and lustrous. Ed cuts, bends, solders, and polishes his pieces, recycling a flea-market find into beautiful bracelets, rings, and other useful objects. Spoon rings originated in 17th century England and were originally used as wedding rings. Servants at the at the time could not afford to have wedding rings made of precious metals so they would take a piece of silverware from the manor house and have it turned into a wedding ring. The manner in which Ed makes spoon rings is almost identical to the way they were made three hundred years ago in 17th century England.
Dick Sharp
Dick Sharp's practice of wood scrolling began when he received his grandfather's antique scrolling saw at the age of 9. What began as hobbywork cut from wooden milk crates he collected for free at the local A&P has become a source of delight and inspiration for adults and children alike. Dick's favorite clients are his grandchildren, for whom he has crafted so many toys that his five-year-old granddaughter once asked him, "Are you Santa Claus?
Maria Testa | Ayr, Massachusetts
No woman's wardrobe is complete without a handmade scarf. Maria Testa is a lifelong resident of Massachusetts. She received her degree in fine arts from the Massachusetts College of Art. She hand dyes silk and velvet to create scarves in shades and hues that are not commonly found in mass-produced accessories. Many of her beautiful handcrafted scarves, designed in a variety of textures and fabrics, are one of a kind. Maria has been one of our most popular consignors for over ten years.
Bob Kaplan | Brooklyn, New York

A woodworker and woodturner for more than 25 years, Bob never knows what will be revealed when he positions a piece of wood on the lathe. Maybe a bowl, maybe a vase, maybe a simple birdhouse, but always an object that exposes the intrinsic beauty of the wood's unique form and grain. Some of his favorite pieces are the most organic - made from burls or roots or with a natural edge, an exposed seam or a crack.

When Bob first started wood turning, he used a small, homemade lathe. Now his tools range from a monster 650 pounds to one small and portable enough to use in demonstrations. Bob is a proud member of the American Association of Woodturners and a longtime favorite of the Brooklyn Women's Exchange.